Ithaca
From ShawnReevesWiki
Interesting things to do
Belle Sherman Elementary Playground

Lots of spinning things.
Fruits, cider, and local produce, free samples
Cornell campus

Apple Vending Machine in Plant Science
Beebe Lake
Cornell Plantations
Dairy Bar (Closed for renovations, 2011)
Mann Library
Olin Library
Snee Hall (Geological Science and Engineering)
McGraw Tower, bell concerts

Cornell Lab of Ornithology

Dewitt Mall

Sew Green's Rescued for Re-use
Pastimes:Antiques
Sola Gallery:Japanese and other art

Farmers' Market

Saturday and Sunday at Steamboat Landing. Great vietnamese, sri lankan, other food. Honey, quilts, clothing, vegetables, and friendly faces.
Floating Classroom

Thursdays & Sundays, 4:00-6:00pm, from Steamboat Landing. Ecotours open to the public, just show up or call ahead and reserve. http://floatingclassroom.blogspot.com/

Hiking the gorges

Ithaca Falls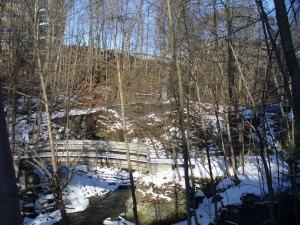 Cascadilla Gorge. As of 2011, you can hike much of the way up from the bottom, but not down from College Ave.
Buttermilk Falls:Tied with Treman for best hike. Nice little campground. official web site
Ludlowville Falls:One big fall, nice and laid back, near the playground.
Six Mile Creek:Wildflower Preserve
Taughannock Falls:official web site
Robert Treman State Park:Enfield Glen. Awesome hike, campsites, swimming at bottom is allowed, very cold. official web site

History Center

The Commons

Shopping, dining, events, and services

Stewart Park

Picnics on the lake, tennis, soccer, frisbee, and events

Cross Country Skiing

Hammond Hill
Connecticut Hill
Cornell Plantations
Dining
Agava

381 Pine Tree Rd. Inventive dishes, a bit smug about how good they are.

Alladin's Natural Eatery

Consistently good mediterranean. Awesome (trucked in) desserts. Best felafel in town by far.

Asia Cuisine

Korean and Sushi.

Asian Noodle House

Shares a kitchen with Little Thai House, but bigger menu

Carriage House Cafe

Fancy food

Collegetown Bagels

Fast, best bagels and breads.

Diamond's

Diner-style Indian.

Garcia's Mexican Restaurant

Traditional American-Mexican dishes, friendly.

Gimme Coffee

The best coffee in town, in state according to some.

Ithaca Bakery

Same as Collegetown Bagels, more room.

Koko

Home style Korean. Make your own cotton candy for free after your meal.

Little Thai House

Cheapest place to get a giant plate of food:pad thai, yellow curry tofu, sweet eggplant, string beans

Manndible Cafe

Excellent quality and flavor. Fun being in Mann Library.

Mehak

410 Eddy St, well-executed indian dishes. Shawn always has kashmiri naan.

Moosewood Cafe

Ithaca's most famous restaurant, be prepared to wait 10-30 minutes. http://www.moosewoodrestaurant.com/

Pizza Aroma

Corner of Cayuga and Green. Unique, flatbread pizzas and salvadoran specialties, like tamales, vegetarian and not.

Purity Ice Cream

Home of the Apple Stix Sundae.

Risley Dining

Looks like Hogwarts, convivial.

Saigon Kitchen

A very busy Phö and all-around vietnamese sit-down.

Sangam

Punjabi Indian.

Souvlaki House

Inexpensive.

Stella's

Fancy-pants.

Taste of Thai (not affiliated with ToTE!)

Fresh ingredients.

Taste of Thai Express (not affiliated with ToT!)

Delicious soups; mock chicken available for most dishes.

Tellez' Catering

Mexican food in Center Ithaca, open Monday to Saturday for lunch. Fixings bar is nice. Mexican candies.

Temple of Zeus

A lunch joint in Goldwyn Smith Hall, Cornell U. Awesome soups; a sublime tofu sandwich called BLTease. Get there before 12:30, when the soup runs out.

Tibetan Mo Mo bar

In Center Ithaca.

The Nines

Deep dish pizza excellent, a slice, preferably with several toppings, is a meal.

Viva Taqueria

Best flavor, mucho culantro. Sit down service or fast bar.

ZaZa's. Fancy italian.
Day Trips
Southwest
Corning

Thali—buttery Indian fare. 28 E. Market St.
Northwest
Trumansburg

Sampson State Park

WWII Army and Navy Base

Rochester

Geneva

Small college town
Northeast
Auburn

Case Research Lab Museum, the birthplace of sound on film. http://www.cayuganet.org/cayugamuseum/researchlab.htm

Skaneateles

Syracuse

Westcott area:Alternative college-town, vintage clothing, cheap eateries
Marshall Street:Collegetown-like atmosphere, Alladin's Eatery, etc.
Carousel Mall
Armory Square
Two weeks around Labor Day