Noodle Soup
From ShawnReevesWiki
I've read that noodles can be cooked separately or in the broth. The issues with cooking in the broth are:
The noodles will soak up much of the water. There should be enough water so that the consistency of the soup is what you want in the end.
The broth will get cloudy.
The noodles should be put in late enough so they don't overcook.
Types of noodles
Wheat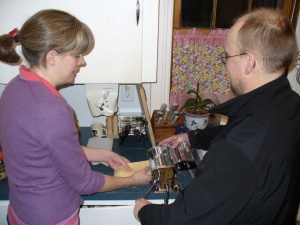 Pasta

Alison and I have made pasta several times, including once for Thanksgiving. We've made it from water, eggs (optional), and semolina flour.

Ramen

Udon
Buckwheat
Soba

Naengmyeon
Rice
Ho fun

Rice vermicelli

Ban Pho
Sweet potato
Bean
Cellophane noodles

Made from mung beans.
Potato
Gnocchi