Museum of 20th Century IT
From ShawnReevesWiki
Jump to navigation
Jump to search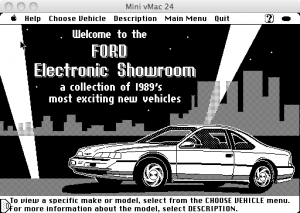 Exhibit
Alison and Shawn prepared an exhibit of information technology from 1981-2000 for two week, fall 2011, at Hartell Gallery, Cornell U. (Sept 18-30).
To see photos of the exhibit, go to the Museum of 20th Century IT photo gallery.
Posters
All sections have a 3'w x 4'h poster with a common header, green type on black stripe, like early terminals. Each poster/pedestal item has a black backdrop. Poster text in a neutral, 20th century font (monospace?).
Sections
Apple Design Evolution
SE

Portable with handle. Monitor over drive. Beveled edges. Facing up 5°. Takes the original Mac design (Mac 128, Mac 512, Mac Plus), adds pinstripes.

LC

Pizza box, more pin stripes. Also tilted up 5°.

7200/7100/Centris 650

Thicker boxes with slightly rounded face and tail. This design common to many 1992-1999 Macs.

8600

Large upended box. Touch of color.

All In One (AIO) G3

Rounded beige and see-through. Pinstripes replaced by perforation, but that idea begins and ends with this model. It's topologically similar to the classic Mac portables, but too heavy to carry around.

iMac

Very round. Since it's clear, it shows why it's a teardrop on its side, being a smoothing of the shape of the CRT that dominates the interior.

G4

Bringing round to the tall box. Actually this started with the Bondi Blue G3. The G4 is the same shape but grey.

iBook G3

Round and color to the portable market. Establishing that color computers are for the "consumer" oriented lines, while grey/black is for the "professional" user?

Powerbook G3

Smooth curves, but without perforations of the AIO or clear plastic of the i-line.

iMac aesthetically inspired items

Wacom Graphite
Harmon Kardon iSub
USB Floppy—VST
LaCie USB/FW CDRW
Handheld
Amigas
Consoles
Boxes
#Amiga 3000 running:

Sim Earth
IntroCAD
Mods
Deluxe Music?
Chat Station
Users can chat with each other in our special chat room or on Amiga World's #aminet channel: irc.amigaworld.net. See chat software.
Guest Book
We use an early 1990s version of Filemaker on the SE to keep a guestbook. The program is amazingly similar to the latest versions of Filemaker. Every night we print the guestbook entries for the day using a dot matrix printer and post them next to the computer.
Components
Handspring Visor Deluxe
Amiga 500
Minimized materials, but still meeting demand for expandability through externalized components pioneered by Apple and Commodore consumer-level predecessors.
Amiga 2500
The largest Amiga, a workhorse, with expansion bays for drives and cards.
Amiga 1200
The portable member of a later generation of Amigas.
Amiga 3000/UX
Runs Unix or Amiga.
Amiga 3000
Compact desktop.
Apple eMate
1997
Apple Mac SE
1987.
Apple Mac SE FDHD
This is the 1989 introduction of a high density floppy drive and internal hard drive to the portable series. It looks just like all the previous portables, but is much more powerful in that one doesn't need to constantly insert floppies to run programs, but one can use DOS formatted floppies to transfer files to PCs. Also remarkable for a small microcomputer is the expansion slot.
Apple Mac SE/30
Sold for almost $5000 in 1990, including most of the power (excepting graphics) of the desktop box that sold alongside this.
Apple Mac LC
Little pizza box Mac.
Apple PowerBook 160
1992
Apple Mac 7100/66
1994
Apple Mac 7200
1995
Apple Power Mac 8600
1997
Apple Power Mac G3
1997
Apple All In One G3
1998
Apple iMac DV SE
1999
Apple PowerBook G3 Wall Street II
1998. http://lowendmac.com/pb2/wallstreet-powerbook-g3-ii.html
Apple iBook G3
1999. http://lowendmac.com/pb2/original-ibook-g3-300-mhz.html
Also see my page on Apple iBook clamshell repair.
Apple Power Mac G4
1999. Advertised as the first supercomputer for consumers, since it crossed the boundary for US limits on exports of powerful computers.
Apple Airport Base Station
1999. Perhaps the pinnacle of expression of the rounded aesthetic, further along the iMac lines.
Description
A multimedia extravaganza featuring the personal collection of two Gen-Xers, this exhibition incorporates functioning computers, slide show viewers, personal computing devices, and visual displays—both print and digital. Information technology devices from 1981-2000 inform this retrospective conversation between design and computing. In this exploration of the physical history of information technology, some objects are classified as cutting edge design or functional innovations; others feature graphic or design software that served as visualization tools. Themes of the exhibition include the history of the Macintosh as a design object, portability, and the Commodore Amiga computers' tools and software related to visualization, drafting, and music.
Preparation
Replace batteries in computers. Old batteries prevent storage in parameter RAM, causing difficult hardware problems. See Amiga#Batteries.
Replace or repair Mac LC power supply. It's not supplying 5 and 12 V, and it's making a 2Hz click.
Create list of all computers to display and create floor plan, determine placement, # of power supplies needed.
Opening or closing reception?
Posters for advertising show and educational posters for show
LCD Screen application/ movie
Scan images from Amiga manuals
Screen-grab images from Amiga audio/visual/design programs.
References
Big Book of Amiga Hardware

Online encyclopedia with guides to all the Amigas and very many peripherals. http://www.bboah.com/

Cory Arcangel's Pro Tools

Nostalgic information technology tools exhibitor Cory Arcangel is described in the short article in New York Magazine. http://nymag.com/print/?/arts/art/features/cory-arcangel-2011-5/index1.html

Classic Amiga

A forum, a wiki, and tons of videos of apps. http://www.classicamiga.com/

"The Apple Macintosh Computer" by Greg Williams, Byte Magazine Feb 1984. http://shawnreeves.net/documents/protected/mac128-ByteMag1984.pdf (protected because of copyright)
Emulators

UAE runs Amiga OS on Windows, Linux, and Mac.
History

Installing RAM in an Apple SE

Internet Relay Chat (IRC)

Low End Mac
Software

Video
Bibliography

The Victorian Internet: The Remarkable Story of the Telegraph and the Nineteenth Century's On-line Pioneers by Tom Standage. Walker & Company, 2007
Computer:A history of the information machine by Martin Campbell-Kelly and William Aspray. Basic Books, 1996.
Kudos
Thanks to Jonathan Ochshorn for advising us and making it happen officially.
Thanks to Tom at Finger Lakes ReUse Center for helping find iMac peripherals.
Thanks to Andre Hafner and Beth Sprankle at AAP computer services and special facilities for help wrangling a couple Mac SE computers for parts.
Thanks to Meg Elliott for providing an excellent working classic system.
Thanks to Tony Mroczkowski of wrangling computer components.
Thanks to Beth Kunz, AAP events manager for helping organize and plan the space.
Post-exhibit extras
Other museums and exhibits
Check out other archives and museums we've found since making ours.
The Vintage Computer Festival

Enthusiasts gather in different regions to exhibit vintage computers, which they consider to include anything older than 15 years that wasn't a generic commodity.

The Atari History Museum and Atari Historical Society

Folks who worked for Atari give us online access to interesting secret documents, corporate structure, and one-of-a-kind products.

The Interface Experience: Forty Years of Personal Computing

A show at the Bard Graduate Center Gallery, Anandale-On-Hudson, New York, 2015.
Art and the Amiga
The Invisible Photograph, part 2; Trapped—Andy Warhol's Amiga Experiments

This part of the video series explains how artist Cory Arcangel works with Carnegie Mellon students to resuscitate art created by Andy Warhol on the Commodore Amiga 1000 computer:https://vimeo.com/92583299 and http://www.nowseethis.org/invisiblephoto/posts/108
Articles since found
Bit Rot: The Limits of Conservation, by Martha Buskirk on June 9, 2014 at Hyperallergic

A discussion of the preservation of artworks damaged or nigh inaccessible, digital or otherwise.